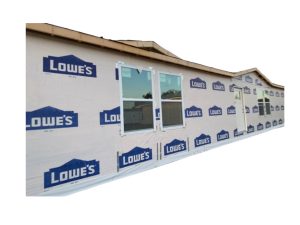 Are you interested In a Modular Home?
Planning for new home build takes many different shapes and construction formats. There are pre built options like a modular homes. If your reading this article, you're probably curious, what is a modular home looks and feels like.
A modular home can be constructed in a factory like setting and delivered to your property lot in sections or as one piece, dependent upon logistics of the drive and final location. Upon it being assembled, you will not be able tell the difference between a modular style home and a traditional stick or site-built home.
Constructing a modular home is generally more cost efficient and faster than constructing a regular home. Studies show that they're stronger and have the capacity to with stand higher winds than competing stick site-built homes.
These advantages show that, modular homes are becoming more popular. The industry is projected to grow to nearly $100 billion by 2024.
This article will help you make a more informed decision, if this housing option is right for you needs, here's the details on modular homes.
What is a Modular House?
A stick-built house which is completed on a lot, a modular home is built off-site, generally at a factory in sections or as a whole and then transported to lot. Once the pieces of your modular house are finished, they're delivered to your lot and assembled according to the house floor plan.
Because the building process is so streamlined and efficient, modular homes can be constructed in about half as much time as traditional homes. They also cost significantly less than site-built homes and are more eco-friendly because they generate less waste.
Just like stick-built houses, modular houses can be customized to fit your floor plan and decor preferences. You can even add a basement and a second story, which isn't possible with other prefab options like manufactured homes.
Differences Between Modular Homes and Manufactured Homes
Modular and manufactured homes are both constructed in factories, but they have a few major differences.
Modular homes are built in sections that are shipped via truck and assembled when they reach their final destination. They're attached to a permanent foundation and may even have a basement or crawl space. They're also taxed and insured the same way as regular stick-built homes and even appreciate at the same rate.
Manufactured homes, however, are completed on the factory floor with no further assembly required. They're built and transported on a chassis that has wheels, which is why they're sometimes called mobile homes.
Unlike modular homes, manufactured homes aren't always set on a foundation. Sometimes they're left on the movable chassis they were built on, which changes the way they're taxed.
Instead of paying property taxes, you'd owe the Department of Motor Vehicles an annual fee. You may also have trouble obtaining financing for a manufactured home that isn't permanently affixed because it isn't considered real property.
But even if your manufactured home is set on a foundation, it won't appreciate the same way that modular and stick-built homes do. Still, buying a manufactured home may make sense if you have a limited budget because it's cheaper than building a modular home.
Benefits of Modular Homes
Modular homes have a few key advantages over stick-built homes, including a faster and cheaper building process.
Faster Building Process
One of the biggest advantages of modular homes is that they can be built very quickly. Because they're constructed indoors, there are no delays related to adverse weather, which speeds up the building process. Modular homes take 50% less time to complete than traditional site-built homes, so your house could be ready within one to two months.
Cheaper Than Site-Built Homes
If you don't have a huge budget for your build, modular homes are a great option. They typically cost 15% to 20% less than custom stick-built houses and look nearly identical.
Modular home manufacturers are able to offer customers better prices for a few reasons. Because the homes take less time to build, they don't have to pay as much for labor. They can also buy materials in bulk to lower the unit price and pass those savings on to you.
High-Quality Construction
Although some people perceive modular homes as lower quality, they're actually quite sturdy. A recent test by the Institute for Business and Home Safety found that modular homes stood up to high winds better than stick-built structures.
Modular homes are designed to meet all the same state and local building codes as site-built houses. They're also inspected by professionals throughout the building process to ensure they're well-constructed. If they're properly maintained, they can last just as long traditional homes, if not longer.
Drawbacks of Modular Homes
Although modular homes are a great housing choice, they still have a few drawbacks.
Less Customization
Modular homes have come a long way in terms of customization, but there are some limits to what you can build in a factory setting.
Because the pieces have to be small enough to transport on flatbed trucks, you may not be able to get certain architectural features. For example, large great rooms with cathedral ceilings aren't always possible in a modular home.
May Be Harder to Sell
Some buyers view modular homes as inferior to stick-built homes, which can make them harder to sell. Although the quality of modular homes is comparable to site-built houses, the fact that they're constructed in factories may turn buyers off.
But rest assured that your modular home will appreciate at the same rate as the other houses in your neighborhood. And if you work with a qualified seller's agent, they'll be able to highlight the benefits of your property and help you get top dollar for it.
Zoning Restrictions
When you're shopping around for potential building sites, remember to check local zoning regulations. Some municipalities don't allow modular homes, so you may not be able to live in your preferred location.
Average Price of Modular Homes
Price is a major consideration for most home buyers, so you may be wondering what a modular home will cost.
The base price of a modular home usually ranges from $50 to $100 per square foot. Most manufacturers charge an additional $30 to $60 per square foot for installation.
If you want to design a modular house from scratch instead of using an existing floor plan, your home will cost even more — about $100 to $250 per square foot. You'll also have to factor the cost of land into your budget. Although land prices vary depending on where you live, you can expect to pay an average of $12,000 per acre.
Obtaining Financing
Unlike manufactured houses, modular homes qualify for all the same loan programs as regular homes, including VA loans.
However, most manufacturers require payment upfront or in stages as the home is being built. This means that you'll need to obtain a construction loan and convert it into a mortgage loan after the home is finished.
You'll also need to purchase the land that the home will be built on. Some lenders allow you to roll the cost of the land into your construction loan. You can also buy the property in cash or potentially get a lot loan to finance the purchase.
Floor Plans and Pricing coming soon
Please fill out a contact page and we will respond to you next week.
Mobile Homes USA Team
Thank